Editor Profiles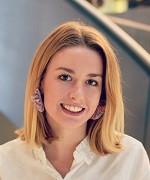 Tillie has a Master of Research degree in Veterinary Microbiology, from the Royal Veterinary College, University of London. During her Masters, she collaborated with researchers in the Middle East, investigating the cellular invasive properties of Avian Pathogenic E. coli. In 2017, Tillie joined BMC as an Assistant Editor. Tillie later joined a mental health research charity. Here, she developed their in-house service-user peer review panel and worked on a number of mental health research clinical trials, advising on public involvement strategies and facilitating patient advisory panels. Tillie worked as a freelance Editor in her spare time, before returning to BMC full-time in 2019 as an Editor for the BMC Series.
Life Stage Nutrition
Dr. Maria Lorella Gianni earned her Medical Degree in 1993 and completed her residency training in Pediatrics in 1998 at the University of Milan, San Paolo Hospital, where she began working on inborn errors of metabolism and infant nutrition and later health. Since 2002, she has been working as an Assistant Professor at Fondazione IRCCS "Cà Granda" Ospedale Maggiore Policlinico, University of Milan, Italy. She is involved in monitoring health, nutritional status and neurodevelopment outcome of premature infants and in developing follow-up program methodologies. From the launch of BMC Nutrition in 2015 she joined the Editorial Board of the journal as Section Editor of the Life Stage nutrition section.
Basic Science
Denis Roy is Full Professor with the Department of Food Sciences of the Université Laval (Quebec, Canada). He is an expert in the field of probiotics and prebiotics and former Tier I holder of the Canada Research Chair in Lactic Culture Biotechnology for Dairy and Probiotic Industries (2003-2017). His research interests focuses on functional food- and colon-related microbial cultures, with attention to their functioning, properties, and potential health benefits. Molecular approaches such as metagenomics and metatranscriptomics are applied to define the diversity and to measure the gene expression of microbial communities found in the intestinal tract of animal and human or in food systems. He joined the Editorial Board (Basic Sciences) of BMC Nutrition in 2014.

Follow
2018 Journal Metrics
Usage
307,648 Downloads

Social Media Impact
205 Altmetric mentions