Research article

Open Access

Open Peer Review
This article has Open Peer Review reports available.
Dietary mineral supplies in Malawi: spatial and socioeconomic assessment
Received: 12 May 2015
Accepted: 7 December 2015
Published: 19 December 2015
Abstract
Background
Dietary mineral deficiencies are widespread globally causing a large disease burden. However, estimates of deficiency prevalence are often only available at national scales or for small population sub-groups with limited relevance for policy makers.
Methods
This study combines food supply data from the Third Integrated Household Survey of Malawi with locally-generated food crop composition data to derive estimates of dietary mineral supplies and prevalence of inadequate intakes in Malawi.
Results
We estimate that >50 % of households in Malawi are at risk of energy, calcium (Ca), selenium (Se) and/or zinc (Zn) deficiencies due to inadequate dietary supplies, but supplies of iron (Fe), copper (Cu) and magnesium (Mg) are adequate for >80 % of households. Adequacy of iodine (I) is contingent on the use of iodised salt with <1 % of households getting adequate I supply from food alone. Hidden hunger is likely to be widespread: among households with adequate energy supply, 30, 56 and 27 % had inadequate supplies of Ca, Se and Zn, respectively. Over 80 % of the poorest households had inadequate dietary supplies of Ca and Zn compared to <30 % of the wealthiest households; >80 % of rural households living on low-pH soils had inadequate dietary Se supplies compared to 55 % on calcareous soils; concurrent inadequate supplies of Ca, Se and Zn were observed in >80 % of the poorest rural households living in areas with non-calcareous soils. Prevalence of inadequate dietary supplies was greater in rural than urban households for all nutrients except Fe.
Interventions to address dietary mineral deficiencies were assessed. For example, an agronomic biofortification strategy could reduce the prevalence of inadequate dietary Se supplies from 82 to 14 % of households living in areas with low-pH soils, including from 95 to 21 % for the poorest subset of those households. If currently-used fertiliser alone were enriched with Se then the prevalence of inadequate supplies would fall from 82 to 57 % with a cost per alleviated case of dietary Se deficiency of ~ US$ 0.36 year−1.
Conclusions
Household surveys can provide useful insights into the prevalence and underlying causes of dietary mineral deficiencies, allowing disaggregation by spatial and socioeconomic criteria. Furthermore, impacts of potential interventions can be modelled.
Keywords
Dietary mineral deficiencies
Household survey
Malawi
Micronutrient supplies
Spatial
Background
Food security is defined as having access to sufficient, safe and nutritious food to meet the needs of an active and healthy life [1]. Food insecurity can manifest as 'hunger' due to inadequate dietary energy intake, or 'hidden hunger', due to deficiencies of vitamins and mineral elements. Hidden hunger is widespread globally with an estimated two billion people at risk of vitamin A, iron (Fe), iodine (I) and zinc (Zn) deficiencies, causing a considerable social and economic burden particularly in low-income countries including sub-Saharan Africa [2–10]. Deficiencies of other vitamins and elements are also likely to be widespread globally, including selenium (Se) which shows significant spatial variation due to environmental factors [11–14].
The prevalence of vitamin or element deficiencies can be quantified through analysis of their concentrations in blood plasma, other tissues or urine; however, conducting wide-scale surveys can be expensive and logistically challenging. In addition, some biomarkers might not be sufficiently accurate or sensitive indicators of deficiency, particularly for mild deficiencies, e.g. for Zn [15]. In certain cases, health outcomes can be a useful proxy to measure prevalence of dietary nutrient deficiencies, for example stunting as an indicator of Zn deficiency [16]. However, such relationships can be confounded by environmental factors or multiple causes of the same health outcome and surveys of health outcomes remain expensive and logistically challenging to conduct. Thus, dietary assessment can be a useful approach whereby the mass of an element consumed or supplied in the diet is quantified, either through direct analysis of composite diets or through matching of food intake records and relevant composition data. Following conventional terminology, 'inadequate dietary supply' of a micronutrient puts an individual 'at risk of deficiency' where deficiency causes negative health outcomes. There are a number of factors that may confound the relationship between 'dietary intakes' and 'nutritional sufficiency', such as nutrient-nutrient interactions, impaired gut absorption or increased losses of vitamins and elements due to infection. For example, phytic acid (PA) is the principal form of phosphorus in cereal grains and inhibits the absorption of Fe, Mg and Zn in the human gut [17].
Previously, the prevalence of micronutrient deficiencies or inadequate dietary supplies in Malawi have been reported using different methods (c.f. Table 1 of Joy et al. [18] for a summary). Anthropometric measures and dietary recall matched to local or regional food composition data were used to quantify dietary supplies and deficiency prevalence of micronutrients in sub-national populations [19–25]. Global, regional or national estimates of deficiency risks were generated using food supply data captured in Food Balance Sheets (FBSs) published by the United Nations Food and Agriculture Organization [9, 13, 18, 22, 26, 27], or consumption data captured in national Household Surveys [28–30]. These studies have shown or estimated that deficiencies of calcium (Ca), I and Zn are likely to be widespread in Malawi due to inadequate dietary supplies whereas dietary supplies of copper (Cu) and magnesium (Mg) appear to be adequate for those with sufficient dietary energy intake. Some studies report generally adequate dietary supplies of Fe and low prevalence of Fe-deficiency anaemia [9, 18, 25], while others report generally inadequate dietary Fe supplies and high prevalence of Fe-deficiency anaemia [24, 30], and this requires further study. Spatial variation in crop composition due to soil type is an important determinant of dietary supplies of some elements; for example, a high prevalence of Se deficiency is likely among populations living on low-pH soils but not on calcareous soils with pH >6.5 [22].
The present study considers both environmental and socioeconomic determinants of dietary element supplies in Malawi. Household dietary energy, PA, Ca, Cu, Fe, I, Mg, Se and Zn supplies were quantified by integrating datasets for food consumption, food composition and nutrient requirements. Results were aggregated by defining household characteristics, e.g. urban/rural location, at national and Extension Planning Area (EPA) levels. The EPA is an administrative unit of the Ministry of Agriculture and Food Security. There are 186 EPAs in Malawi with mean and median land areas of 49,600 and 38,900 ha, respectively. Typically, an EPA office will have a good working knowledge of the local area and maintain contact with a high proportion of member households. Thus, EPAs provide an effective network through which agriculture-nutrition interventions can be implemented, especially given that 85 % of the population are involved in agriculture, predominantly subsistence production [31].
Results
Household characteristics
Food consumption and household characteristics were recorded for 12,271 households in the IHS3 with a combined occupancy of ~56,000 individuals. A total of 154 households were found to consume unrealistic amounts of energy and were excluded from further analysis. A summary of the socioeconomic and environmental characteristics of the remaining 12,117 households is provided in Additional file 1: Table S9, with the relationships between characteristics provided in Additional file 1: Table S10 and Additional file 1: Table S11. More rural households (9944) were interviewed than urban (2173) while the number of households interviewed by expenditure quintile ranged from 1840 to 3191 in quintiles 1 (poorest) and 5 (wealthiest). Expenditure quintiles were delimited based on per capita consumption expenditure. Mean household size was 5.8, 5.2, 4.8, 4.3 and 3.6 for expenditure quintiles 1 to 5, respectively. Thus, although the number of interviewed households varied between expenditure quintiles, the number of individuals covered in each expenditure quintile was equivalent. The number of rural households located on non-calcareous and calcareous soils was 6523 and 2047, respectively, while 1374 were not assigned to a particular soil type. The 179 EPAs were represented by varying numbers of households, e.g. from 15 in Chileka to 431 in Ntonda, with varying socioeconomic and environmental characteristics, e.g. median expenditure quintile 1 in Dolo to 5 in seven of the EPAs (Additional file 1: Table S12).
Foods consumed
Interviewees were asked to recall foods consumed over the past 7 days. Maize is the dominant staple crop of Malawi and 11,704 households (97 %) consumed either refined or whole grain maize flour while 3815 (31 %) consumed rice (Additional file 1: Table S13). Median consumption of maize flour per AME was 320 g DW d−1. Only 408 households consumed sorghum and 264 consumed either pearl or finger millet. 5263 households (43 %) consumed cassava (either as a boiled root or flour), 4664 consumed sweet potato (orange or white) and 2018 consumed potato (Additional file 1: Table S13).
A total of 10,529 households (87 %) consumed some form of animal product (meat, fish, eggs or milk) during the 7 day recall period, with 9286 (79 %) consuming fish. Dried fish were particularly popular with 7935 households consuming this item and median consumption
per
AME of 17 g DW d
−1
(Additional file
1
: Table S13). Fish consumption (yes/no) was related to household expenditure quintile (Pearson Chi-square = 652, df = 4,
p
<0.001; Fig.
2
), with greater consumption in wealthier and urban households (Additional file
1
: Table S14).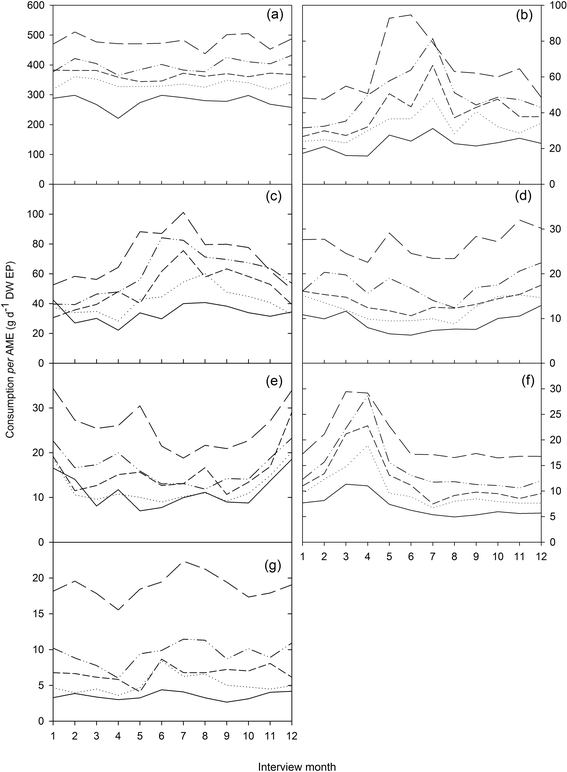 Interviews were conducted from March 2010 to March 2011 inclusive, each month was represented by ≥527 interviews. The climate of Malawi is characterised by one rainy season, generally lasting from November to February in the Southern region and December to April in the Central and Northern regions. The mid-rainy season is sometimes referred to as the 'hunger gap' as cereal crops have not matured and last season's household stores are depleted. Over 75 % of households reported consuming the item 'Green Maize' (i.e. fresh cob, boiled) in March, but <15 % in May-December. Overall, cereal consumption showed no marked seasonal variation suggesting that stocks from the 2009 and 2010 harvests were adequate for most households or were covered by increased purchases or gifts (Fig. 2; Additional file 1: Table S15). The 2009/10 growing season was favourable in Northern and Central regions and produced a national surplus of maize [45]. However, there were prolonged dry spells in parts of the Southern region which reduced crop yields [45]. Despite this, there was no evidence of seasonal variation in cereal consumption in Southern region households covered by the IHS3 (data not shown).
Conversely, other crops showed marked seasonal variation. For example, mean consumption per AME of 'Legumes' was >87 g d−1 DW in May-July but <55 g d−1 DW in October-March. Consumption of 'Roots and tubers' peaked during May-September, 'Vegetables' during March and April and 'Fruit' during January and February coinciding with the availability of mangoes; there were 3226 records of mango consumption of which 79 % were in November-January. Fish is a particularly important component of dietary micronutrient supply and there was no marked seasonal variation in consumption nationally (Fig. 2; Additional file 1: Table S15). Of relevance to food fortification schemes, 11,950 (99 %), 7756 (64 %) and 7611 (63 %) of households reported consuming salt, sugar and cooking oil, respectively.
Nutrient supplies and prevalence of inadequate intakes at household levels
Conclusions
Prevalence of dietary element supplies and deficiencies were quantified for Malawi by combining food consumption data captured in the most recent household survey (IHS3) with locally-generated food composition data, stratified by soil type. We estimate that 57 % of households had inadequate dietary energy supplies for requirements of an active lifestyle, while >50 % of households had inadequate dietary supplies of Ca, Se or Zn to meet requirements but <20 % had inadequate dietary supplies of Cu, Fe and Mg. Among households with adequate energy supply, 30, 56 and 27 % still had inadequate supplies of Ca, Se and Zn to meet requirements. Supply of I from foods other than salt is inadequate for >99 % of households. Access to essential nutrients varied due to socioeconomic and environmental factors. For example, the median supply of Ca in rural households in the wealthiest and poorest expenditure quintiles was 1157 and 255 mg capita−1 d−1, respectively; the difference was largely driven by the consumption of fish with a median supply of Ca from fish of 737 and 246 mg capita−1 d−1 in the wealthiest and poorest expenditure quintiles, respectively. The median supply of Se among rural households in areas of calcareous and non-calcareous soil was 30.7 and 17.3 μg capita−1 d−1, respectively; the difference was driven by food composition, with median Se concentration of 0.0138 and 0.0071 mg kg−1 in refined maize flour from calcareous and non-calcareous soils, respectively.
Nationally, cereals supplied >60 % of dietary energy, >40 % of Mg and Zn, >30 % of Fe and >20 % of Se, but <5 % of Ca. Fish was an essential source of micronutrients for many households, partly due to the preference for eating whole small fish (usipa) including bones. Overall, 77 % of households recorded fish consumption during 7 days preceding their interview, and fish supplied 62, 47 and 26 % of national dietary Ca, Se and Zn supplies. However, consumption of fish varies with greater access for wealthier households and those living in lakeshore EPAs.
Two strategies to increase dietary element supplies were modelled. We show that iodisation of salt at 15–30 mg kg−1 can ensure that the majority of households have adequate I supplies due to near universal consumption of salt, including in poorer, rural households. However, mean household salt supplies of 11.2 g per AME were greater than the WHO maximum recommended intake of 5 g capita−1 d−1 and close monitoring of iodisation levels at production is required to avoid excessive I intakes. Agronomic biofortification with 10 g Se ha−1 of maize has the potential to reduce the prevalence of inadequate dietary Se supplies from 82 to 14 % of households living on non-calcareous soils, and from 95 to 21 % for the poorest subset of those households. However, if only those fertilisers currently in use were enriched, the prevalence of inadequate Se intakes among all households living on non-calcareous soils would fall from 82 to 57 % The cost per alleviated case of dietary Se deficiency would be ~ US$ 0.36 year−1, representing a highly cost-effective strategy.
Household surveys provide a valuable resource for assessing national diets, although the accuracy of food consumption data remains an issue: instances of implausibly high or low reported energy intakes suggest reporting errors, possibly due to purposeful under- and over-reporting. Also, there are unresolved discrepancies between national-level FBS and household survey datasets, for example the ~7-fold greater estimated consumption of fish based on IHS3. The present study used food crop composition data generated for Malawi and demonstrated significant variation in dietary supplies of some elements depending on soil properties. However, locally-generated food crop composition data stratified by soil type are not available for many countries. Thus, work to improve the accuracy and spatial resolution of food crop composition data is required to extend the methodology to other countries, particularly for elements where plant uptake is under strong geochemical control.
Abbreviations
AME:

adult male equivalent
Ca:

calcium
Cu:

copper
DALY:

disability-adjusted life-year
DER:

dietary energy requirement
DW:

dry-weight
EA:

Enumeration Area
EAR:

estimated average requirement
EP:

edible portion
EPA:

Extension Planning Area
FAO:

Food and Agriculture Organization of the United Nations
FBS:

Food Balance Sheet
Fe:

iron
FISP:

farm input subsidy scheme
GPS:

Geographical Position System
I:

iodine
IHME:

Institute of Health Metrics and Evaluation
IHS3:

Third Integrated Household Survey of Malawi
IOM:

Institute of Medicine
Mg:

magnesium
N:

nitrogen
PA:

phytic acid
PAL:

physical activity level
RNI:

recommended nutrient intake
Se:

selenium
UIC:

urinary iodine concentration
WHO:

World Health Organization
YLD:

years of life lost due to disability
Zn:

zinc
Declarations
Acknowledgements
EJMJ's studentship is funded by the University of Nottingham, UK and the British Geological Survey. DBK's studentship is funded by the Crops For the Future Research Centre, University of Nottingham, Malaysia.
Open AccessThis article is distributed under the terms of the Creative Commons Attribution 4.0 International License (http://creativecommons.org/licenses/by/4.0/), which permits unrestricted use, distribution, and reproduction in any medium, provided you give appropriate credit to the original author(s) and the source, provide a link to the Creative Commons license, and indicate if changes were made. The Creative Commons Public Domain Dedication waiver (http://creativecommons.org/publicdomain/zero/1.0/) applies to the data made available in this article, unless otherwise stated.
Authors' Affiliations
(1)
School of Biosciences, University of Nottingham, Sutton Bonington Campus, Loughborough, UK
(2)
Inorganic Geochemistry, Centre for Environmental Geochemistry, British Geological Survey, Nottingham, UK
(3)
Crops For the Future, The University of Nottingham Malaysia Campus, Semenyih, Malaysia
(4)
Lunyangwa Research Station, Ministry of Agriculture, Irrigation and Water Development, Department of Agricultural Research, Mzuzu, Malawi