Research article

Open Access

Open Peer Review
This article has Open Peer Review reports available.
Progress and challenges in eliminating iodine deficiency in Ethiopia: a systematic review
BMC Nutrition
BMC series – open, inclusive and trusted
2016
2:12
Received: 29 September 2015
Accepted: 9 February 2016
Published: 16 February 2016
Abstract
Background
Iodine deficiency disorders (IDD) and their attendant effects on human development, perinatal mortality and intellectual dysfunction are a major nutrition and public health problem worldwide, with Ethiopia counted among the top iodine-deficient countries. Despite the passing of new legislation in 2011 under the National Nutrition Programme and subsequent increase in the availability of iodized salt, the eradication of IDD in Ethiopia remains a significant challenge. This paper critically reviews the recent published data on iodine-status in Ethiopia as a basis for formulating future research and policy initiatives.
Methods
We performed a structural search for IDD studies in Ethiopia for all population groups published after the year 2000.
Results
Twenty four studies reported national and regional data giving a national total goiter rate above 35.8 % in women, with rates close to 60 % in four regional states, and an estimated prevalence of IDD ranging from 0.4 to 66.3 % depending on region. The prevalence of goiter in children was 35 %, but was as high as 71 % in the South Nations Nationalities and Peoples Region. The problem persists despite the widespread availability of iodized salt.
Conclusions
Eradicating IDD in Ethiopia will require concerted efforts including the close evaluation of intervention programs through regular, nation-wide monitoring of IDD and salt-iodization coverage. Salt iodization became mandatory in Ethiopia in 2011 and despite significant progress, the current level of eradicating IDD could be improved. Prospective and controlled intervention studies to evaluate biomarkers of thyroid function and cognitive outcomes will help to monitor and improve eradication efforts. Ascertaining and improving health and development in the most vulnerable populations of women and children is a priority that may be advanced through a greater investment in outreach and education.
Keywords
Children
Ethiopia
Iodine deficiency
Iodine deficiency disorder
Universal salt iodization
Women
Background
Iodine is an essential micronutrient and necessary component of the thyroid hormones thyroxine (T4) and triiodothyronine (T3), which are necessary for normal growth, development, and metabolism during pregnancy, infancy and throughout life [1]. The ecological availability of iodine from soil and water for incorporation by the plants and animal that are used for food are key determinants of human iodine intake [2]. In iodine poor regions of the world, interventions are necessary to prevent endemic iodine deficiency disorders.
In healthy humans, the adult thyroid gland contains about 15–20 mg of iodine [3] used to produce the hormones needed for normal neuronal migration and myelination of the brain during fetal and early postnatal life [4]. Intake of iodine below the minimum requirement causes iodine deficiency (ID), which if chronic leads to subsequent iodine deficiency disorders (IDD) [5]. IDD is a serious health problem whose effects are most severe during pregnancy and childhood. During pregnancy it can result in stillbirth, spontaneous abortion, congenital abnormalities and intellectual dysfunction including cretinism and irreversible physical disabilities [6]. Among children it is associated with high mortality and causes intellectual dysfunction and brain damage as a result of low thyroid hormone production and subsequent impairment of brain development [7]. Circulating thyroid hormone levels are known to be low in infants and women in areas affected by moderate to severe ID [4]. According to the 2011 estimate of the Iodine Global Network (formerly the International Council for the Control of IDD) [8], nearly two billion individuals have insufficient iodine intake worldwide, including one-third of all school-age children. ID is a public health problem in 32 countries, especially developing countries, like Ethiopia [9].
The majority of the Ethiopian population has suffered from ID and related public health problems for the last six decades. In 2011, Ethiopia was among the most iodine deficient countries in the world [10]. About 12 million school age children were thought to live with inadequate iodine, and a total of 66 million people, or 62 % of Ethiopia's population, are vulnerable to the risk of IDD [8]. Prevalent ID was reflected in a rate of cretinism of one per thousand, an estimated 50,000 IDD related peri-natal deaths annually, and a rise in the overall prevalence of goiter from 26 % in 1980 [11] to 40 % in 2009 [12]. The prevalence of goiter in children varied from <15 to >30 % in low and high goiter-endemic regions, respectively [13]. These figures reflect the fact that the median national urinary iodine excretion (UIE) concentration (24.5 μg/L) [14] is well below the WHO/UNICEF/ICCIDD cut-off point (100 μg/L) for adequate iodine intake in the population, leading to severe (UIE <20 μg/L) to moderate (20.1< UIE <50 μg/L) ID in the population.
Despite the government's implementation in 2011 of a long-term plan to eradicate ID through salt iodization, the problem reportedly persists [15] and data concerning sub groups of the population and locations suffering from ID are incomplete. We therefore undertook a systematic review of published peer-reviewed data in order to provide a critical update on iodine status and deficiency in Ethiopia. The review covered studies published between the years 2000–2015 to assess the available data on IDD before and after iodized salt became widely available in 2011. We were particularly interested in ascertaining the national and regional prevalence of ID in the most vulnerable groups (mothers and their children), and in evaluating the impact that salt iodization has had to date.
Methods
Our review aimed to address the following major research questions
(1)

What is the status of iodine availability and consumption in the country?

(2)

What are the effects of inadequate iodine in the most vulnerable groups?

(3)

How prevalent is ID in different regions of the country?

(4)

What are the subsequent consequences of ID?

(5)

What solutions have been implemented or proposed for eradicating ID?

(6)

To what degree has the population been made aware of the importance of iodine and the serious effects of iodine deficiency?
Search terms were set in February 2014, and the most recent search was done in March 2015. The search terms included all publications with the terms "Ethiopia" and "iodine intake" as well as more specific queries with phrases to identify studies on the prevalence of ID in women and children; iodine deficiency disorder (IDD); causes of IDD; effects of IDD; IDD in Ethiopia, IDD in pregnant or lactating mothers; IDD in children; IDD indicators; urinary iodine concentration and thyroid grade (goiter rate); iodized salt; household availability: USI in Ethiopia; distribution of USI; iodized salt consumption; concentration of iodine in salt at producer, retailer and household level. Using these terms, searches were performed in PubMed and Google scholar search engines for articles, reviews, reports, e-books and workshops proceedings. The search was limited to studies published between early 2000 and March 2015. Data extraction parameters were set first, including study design, regions covered, population groups, ID indicator variables and overall findings. The two reviewers then extracted and tabulated the data from all of the retrieved publications and checked agreement between them prior to writing the review.
Results and discussion
Our search identified a total of 33 abstracts, nine of which were excluded because the information was outdated (published before 2000) leaving 24 studies. All but one of the remaining studies had a cross-sectional design. The remaining study was a retrospective cohort design and no reports were found of controlled interventions. Because the number of research reports on Ethiopia was relatively small, they were all included in the review without additional selection for quality of the evidence (Fig.
1
). They were classified as pertaining to the topics shown in Table
1
, with some studies touching on more than one topic: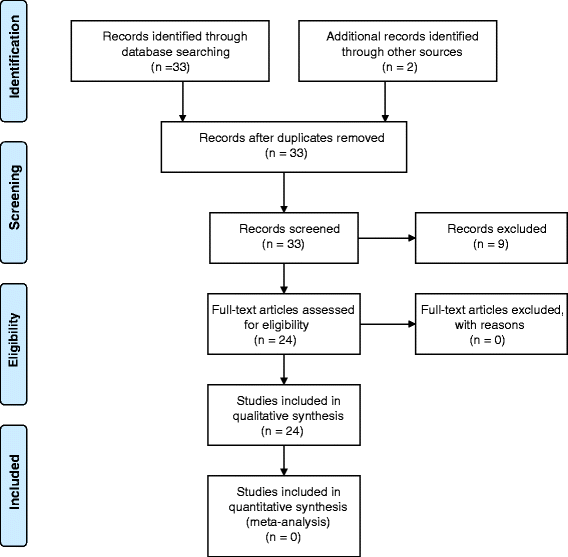 Table 1
Number of publications identified by topic
| Study topics | Number of publicationsa | References |
| --- | --- | --- |
| Population group | | |
| • Women | 5 | |
| • Children | 10 | |
| • Women & Children | 3 | |
| • Population | 2 | |
| Iodine Sources | 4 | |
| Study regionsb | | |
| • Nationwide | 3 | |
| • Tigray | 2 | |
| • Amhara | 3 | |
| • Oromia | 5 | |
| • Addis Ababa | 1 | [34] |
| • Southern Nations Nationalities and Peoples Region (SNNPR) | 7 | |
| • Benshangul-Gumuz | 1 | [32] |
| • More than two regions | 2 | |
| ID Aggravating factors | | |
| • Cassava intake | 2 | |
Conclusion
In conclusion, IDD remains a major public health problem in many parts of Ethiopia. Although iodized salt coverage of ~88 % households is an impressive interim result, this achievement must be expanded by improving manufacturing and distribution processes, and supported by public awareness programs until the goal of universal coverage and a significant reduction in ID is reached. Regular, national monitoring of iodine status, thyroid function and relevant health outcomes will be necessary both to determine if the program has achieved the desired reduction in IDD, and how this has affected health and cognitive measures of women and children. Implementation of these recommendations will improve the health of millions of Ethiopian citizens and serve to inform efforts to eradicate IDD elsewhere.
Abbreviations
ENMS:

Ethiopia National Micronutrient Survey
ID:

iodine deficiency
GR:

goiter rate
IDD:

iodine deficiency disorder
SNNPR:

Southern Nations Nationalities and Peoples Region
TG:

total goiter
TGR:

total goiter rate
UIC:

urinary iodine concentration
USI:

universal salt iodization
Declarations
Acknowledgements
The authors would like to thank The Mauerberger Foundation Fund (South Africa) and Mrs. Isabelle Adler for their generous scholarship supporting TMG in the International MSc in Nutrition Science at the Hebrew University of Jerusalem.
Open AccessThis article is distributed under the terms of the Creative Commons Attribution 4.0 International License (http://creativecommons.org/licenses/by/4.0/), which permits unrestricted use, distribution, and reproduction in any medium, provided you give appropriate credit to the original author(s) and the source, provide a link to the Creative Commons license, and indicate if changes were made. The Creative Commons Public Domain Dedication waiver (http://creativecommons.org/publicdomain/zero/1.0/) applies to the data made available in this article, unless otherwise stated.
Authors' Affiliations
(1)
The Institute of Biochemistry, Food and Nutrition Science; The Robert H. Smith Faculty of Agriculture Food and the Environment, The Hebrew University of Jerusalem Israel, Rehovot, Israel
References
Gunnarsdottir I, Dahl L: Iodine intake in human nutrition: a systematic literature review. Food & Nutrition Research. 2012;56:19731.Google Scholar
Hetzel B. Iodine-deficiency disorders. 10th ed. London: Churchill Livingstone; 2000.Google Scholar
Sharp P. Minerals and trace elements: iodine. 11th ed. London: Elsevier Limited; 2005.Google Scholar
Zimmermann M. Are weaning infants at risk of iodine deficiency even in countries with established iodized salt programs? Nestle Nutr Inst Workshop Ser. 2012;70:137–46.View ArticlePubMedGoogle Scholar
Shawel D, Hagos S, Lachat K, Kimanya E, Kolsteren P. Post-production Losses in iodine concentration of salt hamper the control of iodine deficiency disorders: a case study in Northern Ethiopia. J Health Popul Nutr. 2010;28:238–44.PubMed CentralView ArticlePubMedGoogle Scholar
Dugassa B. Iodine deficiency and women's health: Colonialism's malign effect on health in Oromia region, in Ethiopia. Tor Public Health. 2013;5:958–72.Google Scholar
Mezgebu Z, Mossie A, Rajesh P, Beyene G. Prevalence and severity of iodine deficiency disorder among children 6–12 years of age in Shebe Senbo district, Jimma zone, southwest Ethiopia. Ethiop J Health Sci. 2012;22:196–204.PubMed CentralPubMedGoogle Scholar
Adish A, Chuko T, Abay A, Assey V, Desta T. Ethiopia: breakingtrough with a new iodized salt law. IDD Newsletter. 2013;39(4):7-8. http://www.ign.newsletter/idd_nov13_ethiopia.pdf.
Zimmermann M. The effects of iodine deficiency in pregnancy and infancy. Pediatr Perinat Epi. 2012;26:108–17.View ArticleGoogle Scholar
Andersson M, Karumbunathan V, Zimmermann M. Global iodine status in 2011 and trends over the past decade. J Nutr. 2011;142:744–50.View ArticleGoogle Scholar
Takele L, Belachew T, Bekele T. Iodine concenteration in salt at household and retail shop levels in Shebe town, Southwest Ethiopia. E Afr Med J. 2003;80:532–9.Google Scholar
ICCIDD. Salt Iodization in Ethiopia: New partnerships give children a brighter future. IDD Newsletter 2009;33(3):13-14. http://www.iccidd.org/cm_data/IDD-NL-2009-3.pdf.
Abuye C, Berhan Y. The goitre rate, its association with reproductive failure, and the knowledge of iodine deficiency disorders (IDD) among women in Ethiopia: Cross-section community based study. BMC Public Health. 2007;7:316.PubMed CentralView ArticlePubMedGoogle Scholar
Delange F. Iodine requirements during pregnancy, lactation and the neonatal period and indicators of optimal iodine nutrition. Public Health Nutr. 2007;10:1571–80.View ArticlePubMedGoogle Scholar
ICCIDD. Children in Northern Ethiopia are iodine deficient. IDD Newsletter 2014. Available at: http://ign.org/cm_data/idd_may14_ethiopia.pdf.
Abuye C, Berhane Y, Akalu G, Getahun Z, Ersumo T. Prevalence of goiter in children 6 to 12 years of age in Ethiopia. Food Nutr Bull. 2007;28:391–8.View ArticlePubMedGoogle Scholar
Ethiopia National Micronutrient Survey (ENMS): National salt iodization coverage towards Prevention of Iodine Deficiency Disorder in Ethiopia. In: USI Presentation Forum 2014. Available at: http://www.ephi.gov.et/images/pictures/USI%20presentation_ForumOctober_25_2014.pdf.
Negeri Z, Gobena T, Rajesh P, Kassim M. Determining the magnitude of iodine deficiency and its associated risk factors among pregnant women visiting Jimma University Specialized Hospital for Antenatal Care. World J Med Med Sci. 2014;2:1–16.Google Scholar
Abuye C, Urga K. Determinants of iodine deficiency in school children in different regions of Ethiopia. East Afr Med J. 2000;77:133–7.Google Scholar
Duressa F, Mohammed Y, Feyissa R, Tufa T, Siraj K. Comparative analysis of iodine concentration in water, soil, cereals and table salt of Horaboka, Mio and Besaso Towns of Bale Robe, South East Ethiopia. J Environ Pollut Human Health. 2014;2:27–33.Google Scholar
Kedir H, Berhane Y, Worku A. Subclinical iodine deficiency among pregnant women in Haramaya District, Eastern Ethiopia: A Community-Based Study. J Nutr Metab. 2014;2014:8.View ArticleGoogle Scholar
Berhanu N, Wolde Michael K, Bezabih M. Endemic goiter in school children in Southwestern Ethiopia. Ethiop J Health Dev. 2004;18:175–8.Google Scholar
Bogale A, Abebe Y, Stoecker B, Abuye C, Ketema K, Hambidge M. Iodine status and cognitive function of women and their five year old children in rural Sidama, Southern Ethiopia. East Afr J Public Health. 2009;6:296–9.PubMedGoogle Scholar
Gebreegziabher T, Teyike N, Mulugeta A, Abebe Y, Hambidge K, Stoecker B. Lack of dietary sources of iodine and the prevalence of iodine deficiency in rural women from Sidama zone, Southern Ethiopia. Afr J Food Agric Nutr Dev. 2013;13:8401–14.Google Scholar
Ersino G, Tadele H, Bogale A, Abuye C, Stoecker B. Clinical assessment of goiter and low urinary iodine concentration depict presence of severe iodine deficiency in pregnant Ethiopian women: a cross-sectional study in rural Sidama, Southern Ethiopia. Ethiop Med J. 2013;51:133–41.PubMedGoogle Scholar
Girma M, Loha E, Bogale A, Teyikie N, Abuye C, Stoecker J. Iodine deficiency in primary school children and knowledge of iodine deficiency and iodized salt among caretakers in Hawassa Town: Southern Ethiopia. Ethiop J Health Dev. 2012;26:30–5.Google Scholar
Wolka E, Shiferaw S, Biadgilign S. The effect of iodine-deficiency disorders on academic achievement of schoolchildren in Southern Ethiopia. Public Health Nutr. 2014;17:1120–4.View ArticlePubMedGoogle Scholar
Wolka E, Shiferaw S, Biadgilign S. Epidemiological study of risk factors for goiter among primary schoolchildren in southern Ethiopia. Food Nutr Bull. 2014;35:20–7.View ArticlePubMedGoogle Scholar
Bezabih B, Assefa Y, Yismaw G, Mulu A. Determination of urinary iodine excretion to assess iodine deficiency level and iodine intake in primary school children, Bahir Dar, Northwest Ethiopia. Ethiop Med J. 2007;45:377–82.PubMedGoogle Scholar
Kebede A, Adamu B, Girmay A, Yohannes T, Alemnesh Z, Abuye C. Iodine deficiency disorders (IDD) in Burie and Womberma Districts, West Gojjam, Ethiopia. Afr J Food Agric Nutr Dev. 2014;14:9167–80.Google Scholar
Mesele M, Degu G, Gebrehiwot H. Prevalence and associated factors of goiter among rural children aged 6–12 years old in Northwest Ethiopia, cross -sectional study. BMC Public Health. 2014;14:130.PubMed CentralView ArticlePubMedGoogle Scholar
Kibatu G, Nibret E, Gedefaw M. The status of iodine nutrition and iodine deficiency disorders among school children in Metekel zone, Northwest Ethiopia. Ethiop J Health Sci. 2014;24:109–16.View ArticleGoogle Scholar
Kidane T, Woldegebriel A. Prevalence of Iodine deficiency disorder in a highland district in Tigray. Ethiop J Health Dev. 2006;20:58–9.Google Scholar
Tsegaye B, Ergete W. Histopathologic pattern of thyroid disease. East Afr Med J. 2004;80:525–8.View ArticleGoogle Scholar
World Health Organization/United Nations Children's Fund/International Council for control of Iodine Deficiency Disorders. Assessment of iodine deficiency disorders and monitoring their elimination. In: A Guide for Program Managers. 3rd ed. Geneva: World Health Organization; 2007.Google Scholar
Zimmermann M. Assessing iodine status and monitoring progress of iodized salt programs. J Nutr. 2004;134:1673–7.PubMedGoogle Scholar
Zimmermann M, Moretti D, Chaouki N, Torresani T. Introduction of iodized salt to severely iodine deficient children does not provoke thyroid autoimmunity. A one year prospective trial in northern Morocco. Thyroid. 2003;13:199–203.View ArticlePubMedGoogle Scholar
Assey D, Peterson S, Kimboka S, Ngemera D, Mgoba C, Ruhiye M, et al. Tanzania national survey on iodine deficiency: impact after twelve years of salt iodations. BMC Public Health. 2009;9:319.Google Scholar
Zhao J, Xu F, Zhang Q, Shang L, Xu A, Ghao Y, et al. Randomized clinical trial comparing different iodine interventions in school children. Public Health Nutr. 1999;2:173–8.Google Scholar
United Nations Standing Committee on Nutrition: Eleventh ECOWAS Nutrition Forum held at Freetown, Sierra Leone. In SCN News Supplement.; 2010: ISSN 1564 - 3743. Available at http://www.unscn.org/files/Publications/SCN_News/Supplement_ECOWAS_scnnews38_final.pdf
Adejo G, Enemali M. 100 % salt iodization in Nigeria: the lopsided figure. Transnational J Sci Tech. 2013;3:85–91.Google Scholar
Ethiopian Federal Ministry of Health/United Nations Children's Fund/Micronutrient Initiative. The Ethiopian National Salt Iodization Launching and Scale-Up program. Addis Ababa: Ethiopian Ministry of Health; 2009.Google Scholar
Eliminating Iodine Deficiency Disorder in EthiopiaGoogle Scholar
Kulwa M, Kamuzora K, Leo G. Urinary iodine concentration and availability of iodated salt in school children in goiter endemic district of Tanzania. East Afr Med J. 2006;83:79–84.View ArticlePubMedGoogle Scholar
Zimmermann M. Geographical and geological influences on nutrition Iodine deficiency in industrialized countries. Proc Nutr Soc. 2010;69:133–43.View ArticlePubMedGoogle Scholar
Rohner F, Zimmermann M, Jooste P, Pandav C, Caldwell K, Raghavan R, et al. Biomarkers of nutrition for development-iodine review. J Nutr. 2014;144:1322S–42S.Google Scholar
Abuye c, Berhane Y, Ersumo T. The role of changing diet and altitude on goiter prevalence in five regional states in Ethiopia. East Afr J Public Health. 2008;5:163–8.PubMedGoogle Scholar
Mann J. Observational research methods. Research design II: cohort, cross sectional and case-control studies. Emerg Med J. 2003;20:54–60.PubMed CentralView ArticlePubMedGoogle Scholar
Copyright
© Gebretsadikan and Troen. 2016