Study protocol

Open Access

Open Peer Review
This article has Open Peer Review reports available.
More-2-Eat: evaluation protocol of a multi-site implementation of the Integrated Nutrition Pathway for Acute Care
BMC Nutrition
BMC series – open, inclusive and trusted
2017
3:13
Received: 3 December 2016
Accepted: 7 January 2017
Published: 2 February 2017
Abstract
Background
Nutrition care in hospitals is often haphazard, and malnourished patients are not always readily identified and do not receive the care they require. The Integrated Nutrition Pathway for Acute Care (INPAC) is an algorithm designed to improve the prevention, detection and treatment of malnutrition in medical and surgical patients. More-2-Eat is an evaluation of the implementation of INPAC care activities (e.g. screening) in five diverse medical units from different hospitals in Canada. The primary purpose is to understand how tailored implementation affects INPAC uptake and factors that impact this implementation. The principal outcome is a toolkit that can provide guidance to others.
Methods
This participatory action research uses a before-after time series design to address several research questions focused on implementation and uptake of INPAC (e.g., Does the implementation of INPAC improve the detection of malnutrition? Do nutrition care related knowledge, attitudes and practices scores of unit staff change with the implementation of INPAC?). A six-month developmental phase where baseline data were collected is followed by a twelve-month implementation phase and a three-month sustainability phase. Qualitative and quantitative data are collected concurrently, and to address key research questions, these data are merged. Quantitative data are collected on-site by trained local dietitians and include chart audits of nutrition care practices and a more detailed assessment of recruited patients on quality of life, disability, frailty, food intake and barriers to food intake. Thirty-day post discharge follow up for these patients occurs by researchers via a telephone interview at three time points within baseline and implementation phases, to ascertain the same and other outcomes (e.g. readmission to hospital). Qualitative data include focus groups and key informant interviews completed by researchers, monthly teleconferences among the sites and site-completed forms that track implementation activities. Resource utilization of dietitian time for various care activities (e.g. assessment) and staff time to assist patients at mealtimes is also collected.
Discussion
More-2-Eat provides an example of how implementation can be tailored when a care algorithm is embedded into routine practice. The project also highlights important learning points with respect to data collection and techniques to support implementation.
Trial registration
Retrospectively registered ClinTrials.gov Identifier: NCT02800304 June 7, 2016.
Keywords
Malnutrition
Hospitals
Nutrition assessment
Health plan implementation
Background
Internationally collated evidence demonstrates that up to half of patients admitted to hospital suffer from or are at risk of malnutrition (under-nutrition) [1–5]. Three-quarters of these malnourished patients are not being detected and thus are nutritionally undertreated [6]. This issue is especially of concern for medical patients who are more likely to be malnourished than surgical patients [3, 6] and for those over the age of 65 who are more likely to be malnourished than younger patient populations (46% vs. 35% for < 65 years; [7]). Poor food intake is also common and results from multiple factors including poor food quality, food/eating preferences, feeling unwell and other disease side effects, as well as barriers to food intake, such as not being able to access the tray or requiring eating assistance [8, 9]. Both poor hospital food intake and malnutrition lead to negative health outcomes including a longer length of stay, readmission, and comorbidities and mortality [3, 7, 10–14].
Despite the considerable evidence describing malnutrition and poor food intake in hospitalized patients, these issues continue to be undetected and undertreated due to a lack of recognition, prioritization and integration of key care activities (e.g. screening) within the interdisciplinary team [15, 16]. Identifying notable gaps in the care system will drive the identification of potential solutions to improve these outcomes. For example, dietitian consults are typically haphazard [6, 17] and standardized nutrition screening programs could ensure that malnourished patients are identified and treated. Patients report many barriers to food intake [18] and effective low-technology solutions could be a feasible way to address these issues. Physician and nurse attitudes, knowledge and nutrition care activities demonstrate that education and training are needed to promote and sustain best practice [14, 19–27]. It is anticipated that improving care processes in hospital would also prevent iatrogenic malnutrition.
Best practice recommends engaging the team to become 'food aware' and to treat nutrition as a central therapy; malnutrition has serious consequences, and for many patients food is the medicine they require [14, 25, 28, 29]. Screening to detect malnutrition and monitoring of food intake are important strategies to ensure that patients receive the required nutrition care [14, 23–26, 30, 31]. Focusing mealtimes on food intake and ensuring that staff is available to assist with mealtime activities are also important [28, 30, 32–36]. Continuing nutrition care for malnourished patients post discharge has also been recommended [14, 27, 36]. In response to these best practice recommendations and to improve nutrition care practice, a treatment algorithm for hospital use in medical and surgical patients was created.
The Integrated Nutrition Pathway for Acute Care (INPAC) was designed to be a feasible, evidence and consensus-based algorithm to improve nutrition care [
37
] (Fig.
1
). Key decision points promote quality nutrition care for every patient, at the appropriate time, by the right health provider. Care activities include: 1) screening at admission with the valid and reliable Canadian Nutrition Screening Tool (CNST) [
38
]; 2) using subjective global assessment (SGA) to definitively diagnose malnutrition after screening and assist with triaging patients for individualized assessment and care [
39
,
40
]; 3) monitoring of food intake for all patients, with frequency depending on nutritional status; 4) implementation of preventative practices to support food intake and address common mealtime barriers; and 6) inclusion of nutrition concerns and hospital treatment on discharge communications to support patient transitions to community care. Tools to assess food intake and identify mealtime barriers, and a questionnaire to identify the knowledge, attitudes and practices (KAP) of hospital staff have also been developed [
41
–
43
]. Now that these knowledge products are available, a knowledge translation program that provides the necessary educational, training and supporting materials, as well as strategies to implement the INPAC is needed.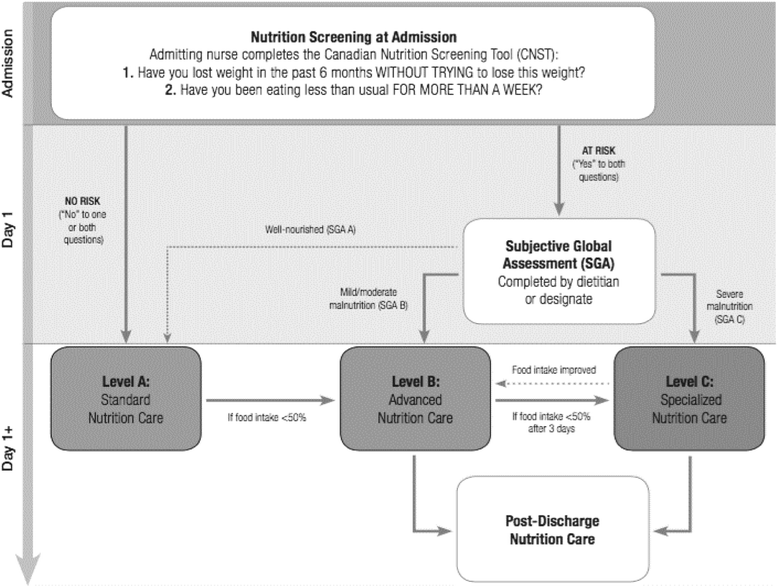 Other research has attempted to improve nutrition care in hospitals, yet this research to date is scant. Prior implementation research in this area of care has been limited to key segments of a pathway (i.e., screening only) [44, 45] or a specific patient population [46]. How implementation occurs for a comprehensive pathway such as the INPAC is not known, nor is it known what resources are needed for such implementation. Gaps also exist regarding patient reported outcomes and how the unit context and climate potentially influences implementation. This knowledge is needed before dissemination of any innovation to improve nutrition care in hospital, including the INPAC is undertaken [47–50]. An observational study that monitors how sites implement INPAC, the educational techniques and strategies that are most successful, resource utilization and impacts on staff roles and patient reported outcomes would provide a substantial contribution to this field where implementation research is just beginning. Further understanding and documenting, in sequence, the key steps that are required for implementation and sustainability of this complex intervention will be of benefit to the implementation science community as a whole.
This manuscript describes the protocol for the More-2-Eat study (M2E). This study has the overarching aim of optimizing nutrition care in hospitals and thus performance of the healthcare system, ensuring that malnutrition and poor food intake are prevented, detected and treated. An allied but separate component that will not be described in this protocol is an embedded feasibility randomized control trial, focused on high protein supplementation in frail elderly patients during and post hospitalization. M2E is a participatory action research study [
51
] with the primary objective of evaluation [
52
] of the implementation of INPAC in five diverse Canadian hospitals. The principal outcome of this work will be the development of a toolkit that provides strategies, tips, resources and tools for others to use when implementing INPAC. Healthcare is considered a complex adaptive system and thus participatory action research is appropriate for evaluating an implementation program that relies on change within this system [
51
,
53
–
55
]. Process and outcome evaluation will also address the following research questions:
1.

Does the implementation of the INPAC increase the detection and subsequent treatment of malnutrition in hospital patients? What strategies are implemented to prevent iatrogenic malnutrition?

2.

Does the implementation of the INPAC improve patient reported outcomes (e.g., food intake and reduce mealtime barriers to intake)?

3.

Does the implementation of the INPAC improve knowledge, attitudes and perceived practices of hospital staff?

4.

How does the implementation of the INPAC vary with context of hospital/unit environments?

5.

What are the barriers and facilitators to successful implementation and what are the necessary ingredients for sustainability?

6.

What is the resource utilization (e.g. time of staff) for the implementation of the INPAC?
Methods
M2E is a participatory action research study [51] with a before-after time series design. The primary aim is to conduct an evaluation of the implementation of INPAC in five sites. Multi-methods are used to address the various research questions and a mixed methods approach with a triangulation design using the convergent model [56] is used to explicitly merge qualitative and quantitative data that will describe how implementation varies by context of hospital site.
Discussion
M2E is a robust and comprehensive qualitative and quantitative data collection that will provide unique insights into implementation processes and approaches that can achieve improved nutrition care practices in acute care hospitals. Using theory and frameworks to guide data collection and implementation are a strength of this study, as is the multi-site participatory action approach. INPAC implementation requires coordination and involvement of a variety of staff and departments to effect change in care processes throughout the hospital stay. Data collection procedures, merging of qualitative and quantitative data in analysis to address research questions and understand implementation will be useful to other implementation scientists. Learnings from the developmental and implementation phases can guide further complex intervention research.
Abbreviations
BCW:

Behaviour Change Wheel
INPAC:

Integrated Nutrition Pathway for Acute Care
KAP:

Knowledge, attitude and practices
M2E:

More-2-Eat project
MAT:

Mealtime audit tool
M-MIT:

My Meal Intake Tool
PDSA:

Plan-Do-Study-Act cycles
PI:

Principle investigator
RAs:

Research associates
SGA:

Subjective global assessment
SIT:

Site implementation teams
Declarations
Acknowledgements
The M2E implementation study team includes the following co-investigators (C. Basualdo- Hammond, P. Bernier, L. Curtis, D. Duerksen, P. Douglas, , L. Gramlich, M. Laporte), collaborators (L. Dietrich, J. Dubin, K. Jeejeebhoy, A. Maybee, M. Mourtzakis, S. Robbins, R. Sawatzky, H. Truber), champions (M. Atkins, D. Butterworth, S. Obiorah, R. Nasser, M. Stickles-White, M. Tom) and research associates: (M. Booth, S A. Digweed, Doering, S. Cowan, C. Marcell, L. Vescio). Canadian Malnutrition Task Force has provided in-kind project management through the Director Bridget Davidson who is also part of the research/facilitation team. NNEdPro has specifically supported key aspects of implementation toolkit development and will provide dissemination across its network. Dietitians of Canada, Canadian Nutrition Society and the Canadian Society of Nutrition Management also support dissemination of this work.
Funding
Canadian Frailty Network SIG2014-08.
Availability of data and materials
Not applicable.
Authors' contributions
HK is the primary investigator and lead of this project. CL, RV, and TM are university researchers involved in data collection. CL was instrumental in review of data collection materials during development and conducted focus groups and key informant interviews. RV manages all quantitative data, while TM analyzes monthly teleconference data. SR had an advisory role particularly in the educational components of the study as well as functioning as a doctoral advisor to CL's work on and around this study. JB provided expertise on change management. SB and JM are site research associates collecting data and implementing INPAC. All authors read and approved the final manuscript.
Competing interests
The authors declare that they have no competing interests.
Consent for publication
No personal data is noted herein.
Ethics approval and consent to participate
University of Waterloo (ORE #20590) and site ethics boards: Niagara Health Ethics Board, Ottawa Health Science Network Research Ethics Board, Health Research Ethics Board of the University of Alberta, Regina Qu'Appelle Health Region Research Ethics Board, University of Manitoba Health Research Ethics Boards and Concordia Hospital Research Ethics Committee, approved and provided clearance for this research study. Data collection directly from patients or staff required informed written consent which was attained prior to data collection.
Open AccessThis article is distributed under the terms of the Creative Commons Attribution 4.0 International License (http://creativecommons.org/licenses/by/4.0/), which permits unrestricted use, distribution, and reproduction in any medium, provided you give appropriate credit to the original author(s) and the source, provide a link to the Creative Commons license, and indicate if changes were made. The Creative Commons Public Domain Dedication waiver (http://creativecommons.org/publicdomain/zero/1.0/) applies to the data made available in this article, unless otherwise stated.
Authors' Affiliations
(1)
Schlegel-University of Waterloo Research Institute for Aging, University of Waterloo, Waterloo, Canada
(2)
Faculty of Applied Health Sciences, University of Waterloo, Waterloo, Canada
(3)
School of Human Movement and Nutrition Sciences, The University of Queensland & The Prince Charles Hospital, Chermside, Australia
(4)
NNEdPro Global Centre for Nutrition and Health (Affiliated with: Cambridge University Health Partners, Wolfson College Cambridge and the British Dietetic Association), St John's Innovation Centre, Cambridge, UK
(5)
The Ottawa Hospital | L'Hôpital d'Ottawa, Ottawa, Canada
(6)
Concordia Hospital, Winnipeg, Canada